2022 Mathematics Newsletter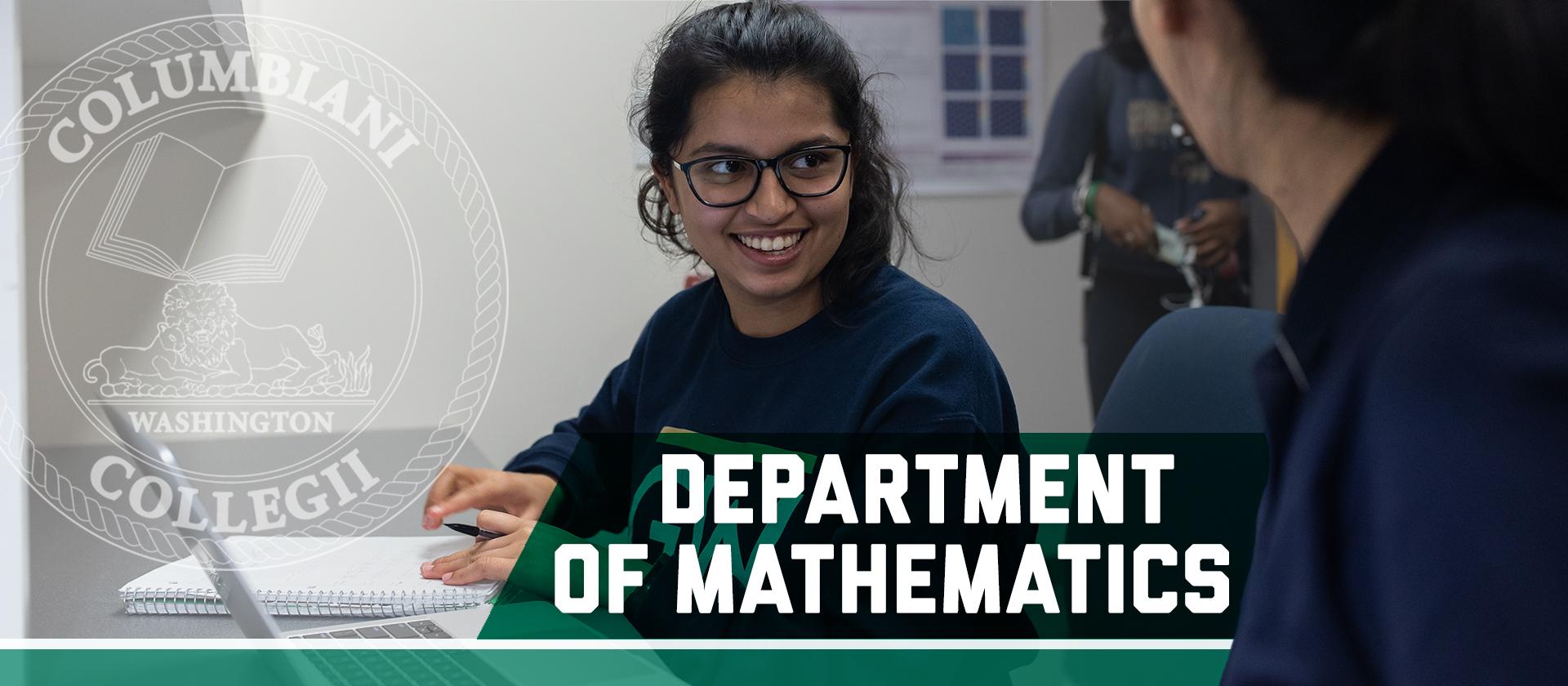 Message from the Chair
Department Spotlights
Alumni Class Notes
Kudos
---
Message from the Chair
Greetings from the GW Mathematics Department. We are happy to say that we were in-person and on-campus in 2021-22! 
In 2022-23 if COVID-19 policies allow, the GW Math Department will be hosting alumni/student events (for example, an alumni lecture, an evening reception, department picnic) and hope alumni in the D.C. area can join us. Join us for the 2022 GW Math Department Picnic on Sunday, September 18 from noon to 6 p.m. at Quiet Waters Park in Annapolis, MD. For more information, contact [email protected].
The Year in Review: GW Math 2021-2022
While faculty, students and staff were delighted to return to campus in fall 2022, we did so with a mask mandate. After some initial hiccups, the testing protocols worked well and there were no significant disruptions during the year. A six-foot distance between the instructor and class allowed instructors the option to unmask, but most math instructors, in solidarity with their students, choose to lecture with a mask. As uncomfortable as this was, instructors were happy to be in the same room with their students and once again to see their faces (albeit only the top half). Let's hope that 2022-23 reveals the smiles that have been hidden for the past year and a half.
It is with great pride that the department is able to invite our undergraduate alumni to return to GW for events that showcase future opportunities for GW math majors. On November 12, 2021, alumnus David Penneys, BS, BA '05, an associate professor of mathematics at The Ohio State University, delivered the colloquium "Fusion Categories and quantum symmetry." On April 15, 2022, Caprice Stanley, BS '14, a mathematician at the Johns Hopkins University Applied Physics Laboratory, delivered the Pi Mu Epsilon Talk titled "An Introduction to Markov Chain Mixing Time."
This year, we welcomed two new faculty to the department, Visiting Assistant Professor of Mathematics Yanfang Liu, who received her PhD from Michigan Technical University in 2021, and Assistant Professor of Mathematics Robert Won, who received his PhD from the University of California, San Diego, in 2016. Professor Won was hired in 2020, but elected to complete his three-year postdoctoral appointment at the University of Washington before starting at GW in fall 2021.
Motivated by the rising costs of calculus textbooks and supplementary fees for online homework, the Mathematics Department decided to switch to OpenStax, an open education resources (OER) for the calculus courses Math 1220-21, Math 1231-32 and Math 2233. This effort was led by Assistant Professor of Mathematics Jay Daigle, who worked with GW's Instructional Technology to host an online homework application (an offshoot of MAA's WebWork) free of charge to students in Math 1232 for spring 2022. Ultimately, online homework at no charge will be available in all future OER GW calculus courses.
In 2021-22, many Mathematics Department events were held in a virtual or hybrid format, while some returned to in-person. The department held its first in-person colloquium on Friday April 22, 2022, with a talk by Professor Rodrigo Trevino of the University of Maryland College Park titled "The Lorentz Gas and Quasicrystals." GW math majors got back to their on-campus studies and social activities. Mathematics senior John Bennett, BS '22, presented his honors thesis, "A survey of apportionment methods," on December 10, 2021. The GW Chapter of the Association for Women in Mathematics hosted a November 17, 2021, viewing of A Charlie Brown Thanksgiving; a December 8, 2021, hot chocolate and warm treats evening event; a professional workshop on February 16, 2022; and the Nerd Olympics on April 24, 2022.
After a year and a half of online instruction and one year of in-person masked instruction, I have become more and more impressed with the resilience and steadfastness of faculty, students and staff and our ability to work together to navigate the challenges brought on by the pandemic. Many thanks go out to all.
The academic year was capped off by the Math Department Graduation Celebration on May 14, 2022, where we bade best wishes to our 2022 math majors and minors. We are very proud of the students we graduate and all the good things they do after they leave GW. We look forward to hearing from them and visiting with them when they return to Foggy Bottom.
We would love to hear what you, our alumni, have been up to. Contact us or come visit us on the 7th floor of Phillips Hall to see old friends, attend a seminar or colloquium. Join us at our Friday afternoon coffee hour, restarting in fall 2022.
Sincerely,
Frank Baginski
Chair, Department of Mathematics
Statement on Diversity, Equity and Inclusion
The Mathematics Department is committed to fostering an inclusive environment for the teaching, learning, discovery and promotion of mathematics. A diverse community of students, faculty and staff is integral to this mission, and a rich breadth of perspectives adds vitality to our intellectual environment. We believe that everyone can have positive and meaningful interactions with mathematics, regardless of characteristics such as gender, race, sexual orientation, religion or nationality, and we strive to treat everyone with dignity and respect.
---
Department Spotlights 
Association for Women in Mathematics Student Chapter
Over the 2021-2022 academic year, the Association for Women in Mathematics Student Chapter (AWM) participated in GW's Women's Org Fair in celebration of the women-led communities built on campus. The organization provided social gatherings with members of GW's math community to reconnect its members in the return to in-person activities post the COVID-19 quarantine. AWM also held a professional development workshop, and is currently organizing a return of its past charity event, the Nerd Olympics.
The In-Person Return of the Mathematics Colloquium
University of Maryland Mathematics Professor Rodrigo Trevino
The Mathematics Department held its first in-person colloquium on Friday, April 22, 2022, with a talk by Rodrigo Trevino, mathematics professor at the University of Maryland, College Park. Professor Trevino spoke about recent developments in the theory of Lorentz gasses for solids with aperiodic structure, including his joint work with the Brin Postdoctoral Fellow at the University of Maryland, College Park, Agnieszka Zelerowicz. Our faculty and students were tremendously grateful to connect back in-person for the colloquium.
The Lorentz gas model dates to the early 20th century, when it was proposed as a model for the free electron in a crystal. The study of the Lorentz gas has driven many of the major developments in ergodic theory, starting with the works of Sinai in the late '60's and 'early 70's, and by now the theory of Lorentz gasses for solids with periodic structure is very sophisticated and advanced. In the early '80's, Shechtman discovered quasicrystals, which are solids whose atomic structure is not modeled by any periodic structure such as a lattice. His discovery led to a Nobel prize in 2011. Very little is known about the Lorentz gas for solids with aperiodic structure such as quasicrystals.
---
Alumni Class Notes
Kevin Doherty, MA '17, is pursuing his master's in applied mathematics at the University of Colorado Boulder. He is three years into his PhD and is studying optimization and data compression.
Madeleine Fazio, BS '15, is currently teaching Algebra I in a New York City Department of Education middle school. She recently finished two master's degrees, the second of which certified her to become a school building leader in the future.
Amy Leone, BA '82, is getting ready to retire after 40 years in the software development business. She lives in Hershey, Penn., with her husband, Tim.
Ethan Lewis, BS '19, will pursue a PhD in economics at Boston University after working at the Federal Reserve Board for two years.
Amir Pirnazar, PhD '99, has written a unique mathematics book called Cocktail Party Mathematics.
Eli Pullman, BS '18, is an MBA student at Columbia Business School, graduating in 2023. This summer, he will be working at PJT Partners as a summer M&A associate.
Evgenia Ruzanova, MA '10, has been teaching at a community college. She loves meeting people with diverse backgrounds and helping them achieve their academic and professional goals.
Dori Schwartz, BA '86, is living in New Jersey and working as an economist.
Hakim Walker, MA '14, PhD '17, is a preceptor in the Department of Mathematics at Harvard University. His role focuses on undergraduate math education, including teaching and coordinating introductory math courses, undergraduate advising and student teacher development.
---
Kudos
On April 15, 2022, undergraduate mathematics majors Oliver Broadrick, Avani Gandhi, Brandon Koprowski, Shicheng Lin, Jake Messick, Shuqing Qi, Xiaoyuan Wu and Tianyi Xu were inducted into GW's DC Gamma Chapter of the Pi Mu Epsilon Mathematics Honor Society. The induction ceremony was preceded by the annual Pi Mu Epsilon talk, which was given by alumna Caprice Stanley, BS '13, and titled "An Introduction to Markov Chain Mixing Time." Caprice went on to earn her PhD in applied mathematics from North Carolina State University in 2019, and now works at the Johns Hopkins Applied Physics Laboratory.
Four graduate students—Jingjing Xu, Hyunjung Choi, Jiayuan Wang and Dionne Kunkel—defended their PhD this spring semester. Two others—Gabriel Montoya Vega and Kevin Long—are planning on defending over the summer of 2022. Congratulations everyone!
Joe Bonin has been named to the editorial board of Journal of Combinatorial Theory, Series A.
Valentina Harizanov received a $5,000 grant from the National Science Foundation for collaborations in computability. She was elected into the executive committee of the Association of Symbolic Logic for a three-year term and was invited by AMS to participate in the AMS/MSRI Congressional Lunch briefing for "Mitigating climate change: science and policy" with Cédric Villani at the U.S. Capitol Visitor Center, December 2, 2021.
Joel Lewis received tenure & was promoted to associate professor in August.
Józef H. Przytycki with his graduate students Dionne Ibarra, Gabriel Montoya-Vega and Ali Guo, organized the December 3-5, 2021 Knots in Washington 49.5 hybrid conference. The spring Knots in Washington 49.75 hybrid conference took place April 22-24, 2022.
Our graduate student Keshav Srinivasan won a prize for his poster in GW Research Showcase, April 11-14, 2022, in the category Studies in Data Sciences and Mathematics.
Daniel Ullman was quoted by Wired in the article "Ranked Choice Voting Reveals the Weird Math of Elections." He will serve a second five-year term as director of the William Lowell Putnam Mathematical Competition. He also will serve a second five-year term as problems editor of the American Mathematical Monthly. These terms cover the 2026 competition year and publication volume.
Yanxiang Zhao received a $160,538 grant from the National Science Foundation to study computational modeling of complex structures.