2021 Mathematics Department Newsletter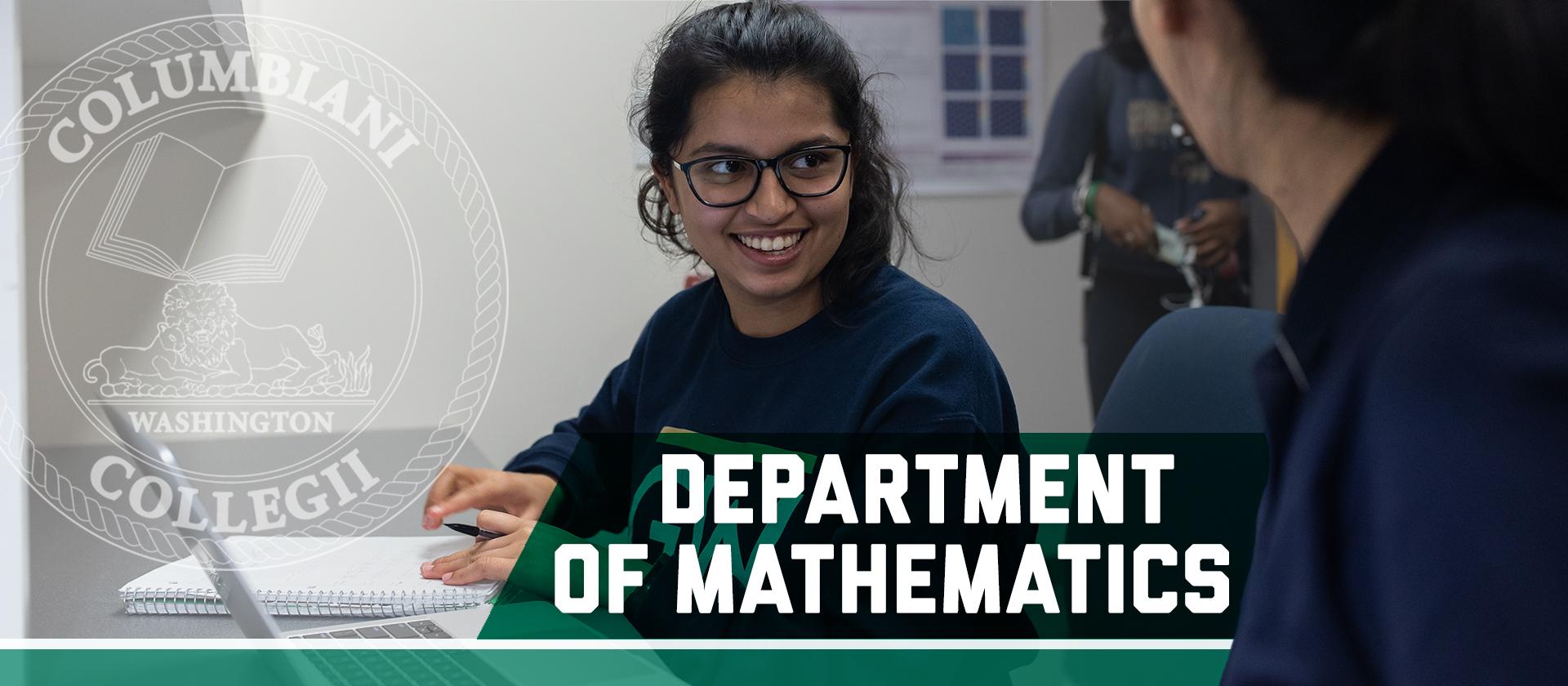 Message From the Chair
Department Spotlights
Department Kudos
Class Notes
Donor Recognition
---
Message From The Chair
Greetings from the GW Mathematics Department,
At our 2020 Virtual Graduation Celebration, many of us hoped we had dodged the COVID-19 bullet after a spring break pivot to remote instruction and a successful completion of the 2019-20 academic year. Unfortunately, this was a bit too optimistic. Through summer 2020, fall 2020 and spring 2021, GW continued with remote instruction. Nevertheless, this experience did reveal the true resilience, perseverance, and dedication of GW students, faculty and staff! Everyone worked together to navigate some very stressful times.
Even though all mathematics classes were online, this did not deter students from continuing their studies. The Math Department offered nearly a full slate of undergraduate classes. All things considered, Blackboard was able to handle the explosion of lecture recordings and the myriad of instructional materials. With minimum technical savvy, a lecture could be delivered to anywhere in the world, from Foggy Bottom to Beijing, China. I cannot imagine how we would have dealt with a global pandemic if it had occurred just five years ago!
We salute the GW students who accepted the challenges brought on by COVID and who continued to progress toward their degrees. Many endured less than ideal living arrangements that made it difficult to work. Zoom hangouts were no substitute for the rich social activities that are an important aspect of student life. Not being able to take advantage of living in Washington, D.C., was frustrating, even though restaurants, museums and theaters were closed in D.C. just as they were in most every other U.S. city.
The GW Math faculty were up to the challenge as well, trying to bring a sense of normalcy to a very non-normal year. The department welcomed two new mathematics faculty, Assistant Professor Lien-Yung (Niyma) Kao from the University of Chicago and Teaching Assistant Professor Jay Daigle from Occidental College.
We adopted and invented a variety of new methods to continue effective teaching during the COVID crisis. These included innovations like group projects, mastery grading, undergraduate learning assistants, supplemental zoom office hours and multiple paths to a letter grade. Professor Joel Lewis hired a student coach to provide regular feedback throughout the semester in his Math 2185 class. Their efforts were spotlighted in the Chronicle of Higher Education. It will be interesting to see which of these experiments prove useful to adapt to complement and enhance more traditional approaches.
Many of the usual Math Department activities continued, albeit virtually. A few of those activities included Math Club; Professor Daniel Ullman's Problems Group; a Women in STEM Career Panel (organized by Professor Valentina Harizanov with the GW Association for Women in Math Student Chapter); an honors thesis defense by Mehr Rai, BS '21; and the Pi Mu Epsilon induction ceremony. 
The 2020-21 academic year was capped off by our second (and hopefully last!) Virtual Math Department Graduation Celebration on May 15. It was inspiring to hear our 2020 graduates talk about their GW math experience and the next stage of their career path such as teaching high school and continuing their education by attending graduate school in math, Air Force officer training school, law school and numerous other programs. We are very proud of our math majors and the things they do after leaving GW.
We would love to hear from you! Contact us and tell us what you have been doing! Once we are back on campus, please visit us on the 7th floor of Phillips Hall any time and see old friends, attend a seminar or colloquium or join us at our Friday afternoon coffee hour. Please keep in touch. As soon as social distancing policies allow, the GW Math Department will host an on-campus picnic in 2021-2022 and we hope alumni in the D.C. area can join us. Details will be forthcoming.
We miss our students, friends and colleagues and we look forward to the day when we can return to the GW campus and enjoy the camaraderie of the GW Mathematics Department.
Frank Baginski
Department Chair
---
Department Spotlights
Congratulations, Pi Mu Epsilon Honor Society Inductees!
The DC Gamma chapter of the Pi Mu Epsilon honor society welcomed several GW mathematics students to its ranks in April, 2021. Greta Batista, John Bennett, Rozmia Fattah, Austin Lajoie, Sarah Racile, Daniel Shackleton, Zhan Su and Nikhil Yagnik were inducted into the prestigious math honor society. The induction was preceded by two talks: Mehr Rai's senior honors thesis project titled "A Random Card Shuffling Process," and Professor Jay Daigle's presentation on "Non-Unique Factorization in Numerical Monoids." We congratulate all of the new inductees on their accomplishments!
Professor Harizanov Featured in MSRI Emissary
Professor Valentina Harizanov was profiled in the fall 2020 Emissary from the Mathematical Sciences Research Institute (MSRI) Berkeley, where she was an Eisenbud Research Professor and a lead co-organizer of the special program Decidability, Definability and Computability in Number Theory.
Women in STEM Career Panel
The GW Association for Women in Mathematics Chapter (AWM) organized a virtual Women in STEM Career Panel on November 19, 2020, featuring presentations and discussions with several women who have distinguished STEM careers, including GW alumnae Sita Ramamurti, PhD '95, and Mariel Supina, BS '16; the Federal Aviation Administration's Denise Hill; and Dr. Amanda Serenevy, founder of the Riverbend Community Math Center in South Bend, Indiana.
Ramamurti is dean of the College of Arts and Sciences at Trinity Washington University and the 2020 recipient of the Leo Schubert Award. Supina is a PhD student at the University of California, Berkeley, researching algebraic and geometric combinatorics.
Hill is a specialist in aviation safety at the FAA and a former strategic communications specialist at NASA. In addition to founding the Riverbend Math Center, Serenevy is a former participant of the GW Summer Program for Women in Mathematics and an active member of Math Circle, a movement that connects mathematicians with young students interested in mathematics.
---
Department Kudos
Dr. Xiaofeng Ren was awarded a Simons Foundation Collaboration Grant for Mathematicians, ($42,000, from September 1, 2020, to August 31, 2025), for the project "Geometric variational problems and elliptic functions."
Dr. Daniel Ullman was quoted by The Washington Post in the article "What's the 411 on 771? Experts examine Washington's new area code." He is also director of the William Lowell Putnam Mathematical Competition, which finally took place on February 20, 2021, in an unofficial capacity. Students took their exams from any location and submitted them electronically. Although the solutions were graded, there were no prizes or awards.
Dr. Joel Lewis was featured in The Chronicle of Higher Education article "Teaching: Why You Might Want a Student to Critique Your Teaching." He discussed his experience hiring then-senior math student Mehr Rai, BS '21, to critique his teaching. 
PhD student Rhea Bakshi Palak defended her dissertation "Skein modules, skein algebra, and their ramifications" in spring 2021, and accepted a fellowship at ETH Zurich, Switzerland, starting next fall.
Senior Fiona Walsh was quoted by The New York Times in the article, "Her absentee ballot missing, a Kentucky college student plans to drive 1,052 miles to vote."
The Nashman Center for Civic Engagement and Public Service announced award winners at its Symposium on Community Engaged Scholarship. Among the Columbian College winners were:
First Place, Nashman Prize for Community Based Participatory Research: Geography students Jacob Tafrate and Elizabeth Szafranski
Second Place, Nashman Prize for Community Based Participatory Research: Neuroscience/Psychology and Brain Sciences majors Benjamin Turley and Sam Gritz
Community Engaged Scholarship Exemplars: Sophie Clemens (Human Services & Social Justice), Shayna Druckman (Human Services & Social Justice), Grayson Hussong (Political Science and Human Services & Social Justice), Addie Abdel Jawad (Biology) and Allen Wang (Math)
---
Class Notes
Atticus Francken, BS '16, was named a Schwarzman Scholar, a prestigious graduate fellowship located at Schwarzman College at Tsinghua University in Beijing. The former economics and math major was profiled in GWToday.
Minh Hoang Luong, BS '17, is a quantitative developer for the financial indexing company Solactive.
Andy Meranda, BS '83, is retired and living with his wife of 45 years, Cindy, in Lake James, N.C. He works part time for the North Carolina Forest Service Aviation Division providing programming support. He flies his airplane often.
Andrew Olowude, BA '12, is a solutions developer for Stanbic IBTC in the IT Department in Nigeria.
Dori Schwartz, BA '86, is an economist and portfolio specialist at a brokerage.
The Honorable Glen Simmons, BA '69, is a realtor on Sanibel Island in Florida. Prior, he practiced patent law and served as a trial judge. 
Greta Simons, BS '17, is a first-year student pursuing her MBA at Columbia Business School. She is also an investment banking mergers and acquisitions summer associate with Evercore.
Sydnie Sullivan, BS '20 is a digital and social listening associate for the firm Rational 360 in Washington, D.C .
Wei Tian, BS '18, is a biostatistician at Beth Israel Deaconess Medical Center in Boston, Mass.
---
Donor Recognition
The Mathematics Department would like to gratefully acknowledge the following generous donors who made a gift to the program from January 1, 2020 – December 31, 2020.
+ Faculty/Staff | # Parent | ~ Student | * Friend
Dr. John Conway +
Atticus Francken, BS '16
Dr. Murli Gupta + #
Jules Kouatchou, PhD '98
Dr. Fat Lam, MA '74
Mozhu Ning, BS '15, GCert '16
Sita Ramamurti, PhD '95
Maxim Sokolov, PhD '00